Jim's Safari Motorhome Site

Nampa, Idaho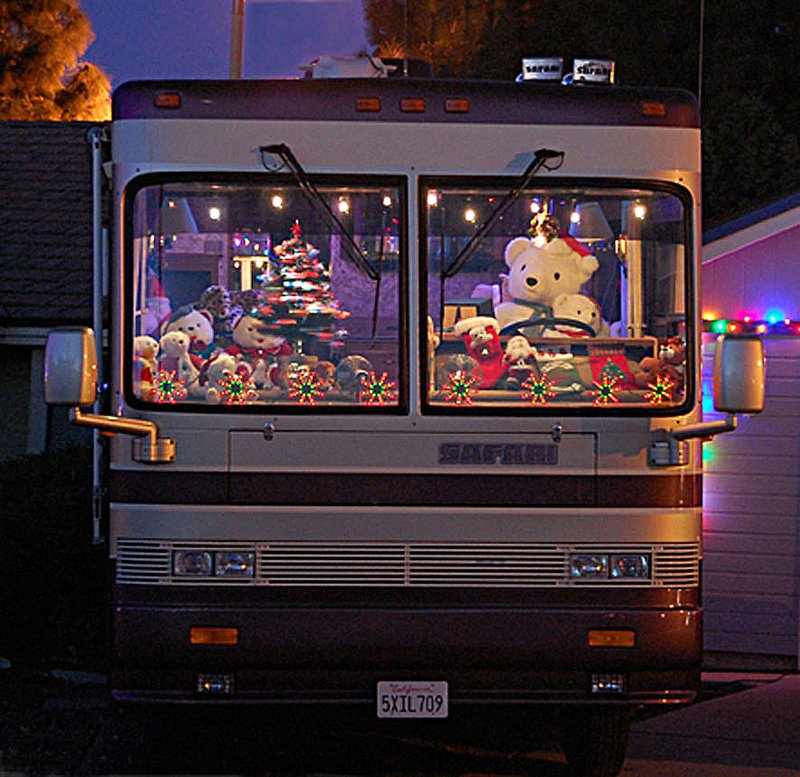 Decorated for Christmas 2011 in Camarillo, CA
We had a 98 Sahara model M3044 (30' inside, 32' outside) with a 300 Cat. I have a fair amount of literature given to me by the previous owner and I have made a lot of diagrams of the systems and my modifications so if anyone is looking for answers, contact me and I will see if I have the data.
I will post some of what I have for download. Email me if this is of use to you.
Trailer Socket Wiring: I built a circuit using 3 relays to convert the Safari 3 wire trailer connection to a standard 2 wire. The link will take you to that page.
Electrical drawings: Most are listed for a 1996 M3044 with a side door but they seem to apply to my unit with small variations. I doubt if the factory changed the designs much over the years.
Data pages: Various owners manual pages, modifications and other data.
Engine Skid: I added a skid to the rear engine mount to protect the pan from dragging. This link has pictures and a drawing.
Louverectomy: Opening the rear radiator louvers for better air flow. Click for a page detailing the "Louverectomy".
Front Bumper Backing: To provide better protection for the front and add much needed weight as far forward as possible, I added a double 5" channel bumper. Click for the details.
Tire pressure is important for safe and comfortable operation. Click for a page dedicated to this.
Flashing and blinking brake lights: Click to see a description of the circuits, their installation and pictures.
Click for RV Home page.
Email me with any questions

Updated September 28, 2020